1 small onion
1 garlic clove
1 tomato
Spray oil
½ x 5ml spoon ground cumin
1 x 300g can fava beans or broad beans
2 x 15ml spoons lemon juice
100ml water
1–2 eggs per person
Wholemeal pitta bread
Tahini sauce - optional
50g tahini*
35ml water
2 x 5ml spoons lemon juice
Garnish – optional
10g fresh parsley
1 tomato
¼ cucumber
Cayenne pepper
*Tahini contains sesame seeds, nut butters such as cashew or almond can be used as an alternative.  Natural or Greek yogurt can also be used, but these will give a milder taste to the sauce.
Chopping board, vegetable knife, garlic press, colander, 2 x saucepans, measuring spoons, fork or potato masher, small mixing bowl, mixing spoon.
Prepare the ingredients:
- peel and dice the onion;
- peel and crush the garlic;
- dice the tomato;
- drain and rinse the beans.
Place the eggs in a pan of cold water. Bring to the boil and cook for ten minutes. After ten minutes, remove from the heat and run the eggs under cold water.  Peel and cut in half.
Spray a small saucepan with oil.  Add the chopped onion and half the garlic and fry gently for 2-3 minutes.
Add the ground cumin, beans, diced tomato, 2 x 15 spoons lemon juice and 100ml water.
Bring to the boil and then simmer for 10 to 15 minutes.
Remove from the heat and roughly mash the beans with a fork or potato masher.
Method – Tahini sauce (optional)
Place the tahini, remaining garlic, 35ml water and 2 x 5ml spoons lemon juice in a small bowl.
Whisk together until smooth. The mixture might split initially but will become smooth with further mixing.
Method – Garnish (optional)
Chop the fresh parsley.
Dice the tomatoes.
Dice the cucumber.
Add ¼ x 5ml spoon cayenne pepper for a spicy kick!
Borlotti beans, kidney beans or butter beans could be used instead of fava or broad beans.
Serve ful for breakfast with hot pitta or flat bread.
Why not use the Explore Food calculator, the British Nutrition Foundation's free online nutritional analysis programme, to calculate the nutritional information for this and other Food - a fact of life recipes?
Weigh
Measure

Peel
Cut, Chop, Slice, Dice & Trim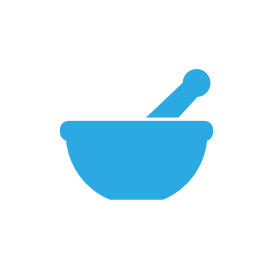 Crush

Fry & Sauté

Melt, simmer and boil

Mix, Stir & Combine

Mash
Is there something wrong with the page? Do you have a suggestion or would like to see something on this page?