1 x 400g can chickpeas
1 red chilli or ½ 5ml spoon chilli powder or flakes
1 garlic clove
10g fresh mint
75g plain flour
1 lime
200g frozen peas
1 x 5ml spoon smoked paprika
Black pepper
Spray oil
Optional
Pitta bread, lettuce and natural yogurt/tzatziki to serve
Baking tray, greaseproof paper, sieve or colander, chopping board, vegetable knife, garlic press, zester or grater, lemon juicer, kitchen paper, plate, food processor or stick blender.
Preheat the oven to 180°C or Gas mark 5.
Line a baking tray with greaseproof paper.
Prepare the ingredients:
- drain and rinse the canned chickpeas;
- deseed and dice the chillies (if using);
- peel and crush the garlic cloves;
- pick the mint leaves and roughly chop;
- zest and juice the lime;
- defrost the peas.
Pat the chickpeas and peas dry with kitchen paper. Place in a food processor with the paprika, fresh chilli or ground chilli/flakes, garlic, most of the mint, lime zest and 50g of the flour.
Add a quarter of the lime juice and season with black pepper.
Blitz to a coarse paste.
Remove from the food processor and place on a plate. If the mixture feels too wet add the rest of the flour.
Divide the mixture into 8. Lightly damp your hands and roll the mixture into even sized patties.
Place on the lined baking tray and chill for 20-30 minutes to firm up, if time allows.
Spray lightly with oil and bake for 15-20 minutes until golden brown. Turn the falafel halfway through baking to get an even colour.
Optional – to serve, toast the pitta and split down one side. Shred the lettuce. Stuff the pitta with the falafel and shredded lettuce and serve with natural yogurt or tzatziki.
Make sure the chickpeas are well drained and dried – if not the mixture may be too wet and will not hold together.
If you do not have a food processor or blender mash the chickpeas and peas and other ingredients with a potato masher and mix well.
This recipe was adapted from a recipe for Pea and mint falafel, which was kindly donated by Tesco plc.
Why not use the Explore Food calculator, the British Nutrition Foundation's free online nutritional analysis programme, to calculate the nutritional information for this and other Food - a fact of life recipes?
Weigh

Peel
Measure
Cut, Chop, Slice, Dice & Trim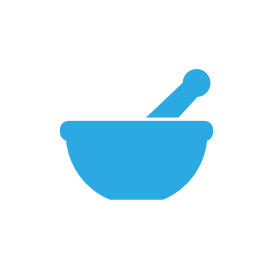 Crush
Zest
Juice

Drain

Blitz, puree and blend

Portion / Divide

Form & Shape
Chill

Bake
Is there something wrong with the page? Do you have a suggestion or would like to see something on this page?