1 red onion
½ red pepper
2 garlic cloves
160g canned sweetcorn
395g can beans in taco or chilli sauce
Spray oil
2 wholemeal tortilla wraps
200g tin chopped tomatoes
25g reduced-fat cheddar cheese
To serve - optional
6 cherry tomatoes
15g coriander
¼ cucumber
¼ iceberg lettuce
Chopping board, vegetable knife, garlic press, sieve/colander, grater, frying pan, mixing spoons, can opener, ovenproof dish.
Prepare the ingredients:
- peel and finely chop the onion;
- deseed and finely chop the pepper;
- peel and crush the garlic;
- drain the sweetcorn;
- grate the cheese.
Lightly spray a frying pan with oil and place over a medium heat. Add the onion, pepper and garlic and cook for 5 minutes until the vegetables are beginning to soften.
Add the sweetcorn and beans, bring to the boil and simmer for 5 minutes, stirring occasionally.
Pre-heat the grill on high.
Spoon the beans evenly down the centre of the 2 tortilla wraps and roll up to seal.
Place in a small ovenproof dish and top with the chopped tomatoes and cheese.
Grill for 5 minutes until golden and bubbling.
Prepare the accompaniments:
- halve the cherry tomatoes;
- roughly chop the coriander;
- roughly chop the cucumber;
- finely shred the lettuce.
Scatter with the chopped coriander and serve with the tomatoes, cucumber and lettuce.
Add 2 x 5ml spoons chili powder for an extra kick of flavour.
Try seeded or flavoured wraps.
Serve the bean filling with cooked brown rice, couscous or quinoa.
This recipe was adapted from a recipe for Quick bean enchiladas, which was kindly donated by Tesco plc.
Why not use the Explore Food calculator, the British Nutrition Foundation's free online nutritional analysis programme, to calculate the nutritional information for this and other Food - a fact of life recipes?
Weigh

Peel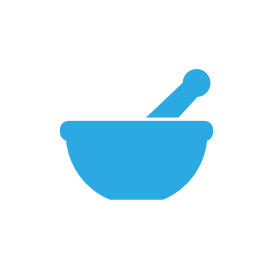 Crush
Cut, Chop, Slice, Dice & Trim

Drain

Grate

Fry & Sauté

Mix, Stir & Combine

Melt, simmer and boil

Grill
Is there something wrong with the page? Do you have a suggestion or would like to see something on this page?