½ lemon
1 garlic clove
1 sprig thyme
Small bunch mint
3 skinless and boneless chicken thigh fillets
1 x 15ml spoon olive oil
1 x 5ml spoon sumac
¼ x 5ml spoon chilli flakes
100g Greek yogurt
Black pepper
Optional- for serving
1 little gem lettuce
5cm piece of cucumber
2 flatbreads
1 x 15ml spoon pomegranate seeds
Baking tray, tin foil, chopping board, vegetable knife, lemon juicer, garlic press, red chopping board, measuring spoons, large bowl, mixing spoon, tongs, plate, small bowl.
Line a baking tray with tin foil.
Prepare the ingredients:
- cut the lemon in half and juice one half;
- peel and crush the garlic clove;
- pick the thyme leaves from the stalk;
- chop the mint leaves.
Optional for serving:
- shred the lettuce;
- dice the cucumber.
Remove any fat from the chicken thigh fillets. Thoroughly wash and dry your hands after touching the raw meat.
Place the chicken, oil, ½ x 5 ml spoon of sumac, half the lemon juice, garlic, thyme and chilli flakes in a large bowl.
Mix well making sure the chicken is covered in the marinade. Cover and leave to marinate for 10 minutes.
Preheat the grill to high.
Put the chicken on a lined baking tray and grill for 10-12 mins turning frequently, until the outside is browned, and the middle is cooked through with no pink juices.
Remove from the grill and set aside.
Optional to serve:
 Spread each flatbread with a spoonful of the yogurt mixture, then top with lettuce and cucumber.
Slice the chicken into bite-size pieces and divide between the flatbreads.
Top with the pomegranate seeds.
Roll up the flatbread and serve warm.
Place the yogurt, mint, remaining sumac and lemon juice in a bowl. Season with black pepper and mix well.
For a vegetarian alternative use thinly sliced halloumi; brush with the marinade and then grill on a lined baking tray turning once until golden brown.
To check the chicken thighs for 'doneness' it should have an internal temperature of at least 72°C. To probe chicken thighs the thermometer should be inserted into the thickest part of the meat. You can also test to see that the chicken is cooked if the juices run clear when cut and pressed.
This recipe was adapted from a recipe for Chicken shawarma flatbreads with yogurt, which was kindly donated by Tesco plc.
Why not use the Explore Food calculator, the British Nutrition Foundation's free online nutritional analysis programme, to calculate the nutritional information for this and other Food - a fact of life recipes?
Weigh
Measure
Cut, Chop, Slice, Dice & Trim
Juice

Peel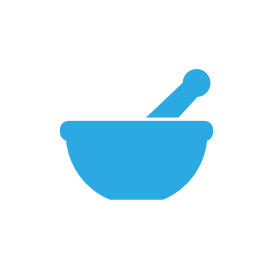 Crush

Mix, Stir & Combine

Grill
Is there something wrong with the page? Do you have a suggestion or would like to see something on this page?